Rotating Flavors of our Best Selling Cupcakes in Jars
Here we create an eye-popping and unique dessert,
sandwiching layers of our most popular cake and frosting combinations.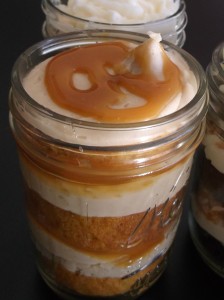 Vanilla Salted Caramel — Layers of our moist Vanilla Cake alternating with Salted Caramel Frosting and Creamy Caramel Sauce. Also Available in Gluten Free.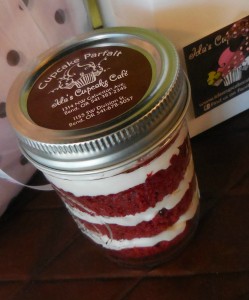 Red Velvet Cream Cheese — Ida's Red Velvet layered with Cream Cheese Frosting. Also Available in Gluten Free.

Chocolate Almond Joy — Ida's luscious Chocolate Cake layered with Toasted Coconut and our Coconut Cream Cheese Frosting. Also Available in Gluten Free.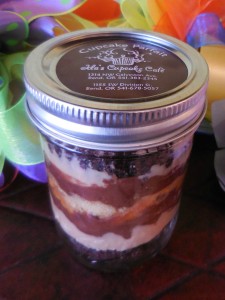 Peanut Butter Stuffed Chocolate — Peanut Butter Chip Cake sandwiched between a layer of Chocolate Cake alternating with Chocolate and Peanut Butter Frostings. Note, Gluten Free option includes Gluten Free Chocolate cake and both peanut butter and chocolate frostings.

Or Create Your Own Ida's Cupcake Parfait
Your Choice of up to 2 Cake Flavors & 2 Frosting Flavors
Cupcake Parfait Pricing
$6 each or $24 for 4 Pack
Gluten Free–Add .75/Parfait
Ribbon & Gift Card with Personal Greeting–Add $2
Shipping Ida's Cupcake Parfaits
Add $5 Handling + Shipping Charges
Orders are shipped out USPS Priority Mail Monday-Wednesday with Delivery Generally in 1-3 Days Depending upon distance and time of year.
Orders must be received by 4:00 p.m. Pacific Time at least one day prior to shipping.