Rotating Flavors of our Best Selling Cupcakes in Jars
Here we create an eye-popping and unique dessert,
sandwiching layers of our most popular cake and frosting combinations.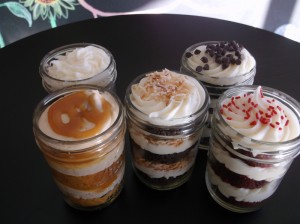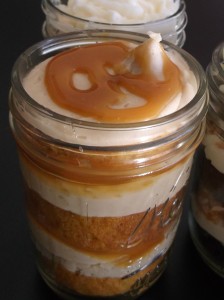 Vanilla Salted Caramel — Layers of our moist Vanilla Cake alternating with Salted Caramel Frosting and Creamy Caramel Sauce. Also Available in Gluten Free.

Red Velvet Cream Cheese — Ida's Red Velvet layered with Cream Cheese Frosting. Also Available in Gluten Free.

Chocolate Almond Joy — Ida's luscious Chocolate Cake layered with Toasted Coconut and our Coconut Cream Cheese Frosting.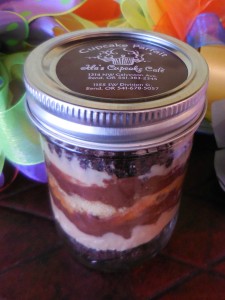 Peanut Butter Stuffed Chocolate — Peanut Butter Chip Cake sandwiched between a layer of Chocolate Cake alternating with Chocolate Ganache and Peanut Butter Frosting

Or Create Your Own Ida's Cupcake Parfait
Your Choice of up to 2 Cake Flavors & 2 Frosting Flavors
Cupcake Parfait Pricing
$6 each or $24 for 4 Pack
Gluten Free–Add .75/Parfait
Gift Card with Personal Greeting–Add $1
Shipping Ida's Cupcake Parfaits
Add $5 Handling + Shipping Charges
Orders are shipped out Monday-Wednesday with Delivery Generally in 1-3 Days Depending upon distance and time of year.
Orders must be received by 4:00 p.m. Pacific Time at least one day prior to shipping.